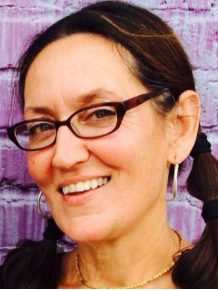 Yolande van Heerden, Instructor
Yolande is a fiber artist and arts instructor. She offers a wide range of visual art and sewing workshops, spanning from several hour introductory sessions to months- long projects resulting in community quilts and dress-making. A native of South Africa, van Heerden celebrates her homeland's cultural diversity via her community outreach work and draws up the richness of its fabric tradition in her own creations. Yolande was recently featured by Mississippi Folklife. Read it here!
Robin Whitfield, Instructor
Robin graduated from Delta State University in 1996 with a BFA in Painting. She has been on the Mississippi Arts Commission Roster since 2006 and has exhibited her work widely across the state for the past 15 years. Her artworks and illustrations have been featured in numerous publications including "Words On Nature: a collection of writings by Eudora Welty" edited by Patti Carr-Black. She was selected to be the Artist-In Residence at Noxubee National Wildlife Refuge for the fall of 2014. She is a certified Audubon Master Naturalist and an avid kayaker and explorer. She has been with ArtPlace since 2002 teaching a variety of courses.
Richard Elliott, Instructor
Richard is co-founder of design|build solutions, llc. He completed a Masters of Design-Build from Auburn University in 2007 and has been utilizing his skills to serve economically struggling communities ever since. He oversaw the rehabilitation of dozens of homes damaged by Hurricane Katrina and later led the construction of a health center, school and public toilet facility in rural Tanzania while serving as the Executive Director of Village Life Outreach Project. He brings these skills and a desire to provide educational opportunities wherever possible within the construction process to the Baptist Town Cottages Project as well as Fuller Center for Housing. Richard has been with ArtPlace since Fall 2014.
Erin Mulligan, Program Coordinator
Erin is a Rhode Island native, currently living in the Mississippi Delta. A dancer and yoga teacher, Erin leads movement classes and wellness workshops throughout the state. She is a core artist with ArtPlace in Greenwood and a teaching artist with the Mississippi Arts Commision, leading arts-integrated programs for schools and professional development for educators. Erin empowers students to become active participants in their education by providing hands-on learning through the arts. She is passionate about connecting movement and mindfulness - whether in a studio, on a stage, or in a classroom.
Portia Collins,
Executive Director
Portia Collins is a nonprofit professional who is passionate about cultivating meaningful engagement between people and causes. With nearly ten years of experience, Portia is skilled in corporate and grassroots fundraising, volunteer management and engagement, event planning, communications, and grantsmanship. Portia graduated from Mississippi Valley State University with a bachelor's degree in Political Science. In 2014, she earned her Master of Public Administration with a concentration in nonprofit organizational management from Pennsylvania State University. Portia is an active member of the Greenwood Leflore Young Professionals as well as a board member for the Museum of the Mississippi Delta.
Board of Directors
As a 501(c)3 organization, ArtPlace Mississippi is governed by a Board of Directors. These individuals give their time and talent to establish direction and ensure the liveliness of the organization. We are grateful for their service.